Long life stencils for electrolytic marking
Long life stencils for electrolytic marking has the exact image of the final mark created on it. The white areas of the green-blue stencil are open, which allows the electrolyte and electricity to flow through them.
Long life stencils are individually manufactured by our graphic and design department according to customer requirements. Send your template (e.g. sketch, letterhead, file) to grafik@dimatron.com. Our team will also be happy to help you develop your own product marking.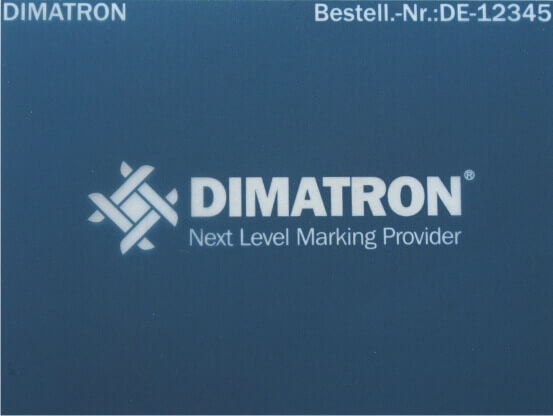 Long life stencils from DIMATRON have a lifespan of around 4500 marks, which is why they are particularly suitable for series production. We do all production steps in-house, which is why we are independent of suppliers and can minimize the production cycle to 8 hours.
The long life stencils goes through different manufacturing steps: Prepress, production, further processing & final quality check.
In our prepress department we digitize the customer's templates, adapt them as required and optimize them for printing. Upon request, you will receive a proof for a new stencil, which you can use for the layout check and as archive reference for repeat orders. The final layout is exposed on reprofilm.
In production, the stencil mesh, which is mounted on aluminium frames, is coated with a light-sensitive layer after a cleaning and drying process. We have developed a coating process that makes the layer particularly even and clean and we are sure that you will notice the difference when compared to our competitors.
In addition to a coating machine, other devices such as UV imagesetters, drying and curing ovens are used in the downstream production processes for the long life stencils.
In the final stages of processing, the stencils are cut to size and, if necessary, glued into a stencil cover.
Stencil prices
Our templates are not only very attractive, their pricing is also simple and transparent. In addition, there are no composition costs and no impressions costs.
We have no minimum order quantities.
With us, you only pay the stencil price, which is calculated according to the square centimeters and becomes increasingly cheaper with increasing size. Only for the first order do we add development costs for the production of the reprofilm.

Best price guarantee
Do you think you already get a very good stencil price from your current provider? We are very confident that we can make you a better offer - without sacrificing quality!
Send your request to: grafik@dimatron.com
Fastest delivery time
We want to give our customers even more flexibility through shorter delivery times, which is why we have expanded our stencil production and switched to two-shift operation. We now produce stencils from 6 a.m. to 11 p.m.
We usually send stencils ordered in the evening the next morning..