Marking felt is used for electrolytic marking as an electrolyte storage and can be compared to an ink pad. The felt stores the electrolyte and ensures that the current is evenly distributed.
DIMATRON offers different types of felt. White felt is thin and very flexible, grey felt is thicker and can store more electrolyte and black felt (also thick) has particularly high conductivity.
Black felt
In particular the black felt from DIMATRON is an excellent conductor of electricity when compared to white polyester felt. It is thicker than the white felt and springs slightly, which is particularly advantageous when used in semi-automatic systems. Like the white felt, the black felt is extremely heat-resistant.
Our felt packs contain 3 sheets of A4 (210 x 297 mm), these can also be ordered in pre-cut smaller sizes for a small surcharge.
Black felt must always be used in combination with conductive net.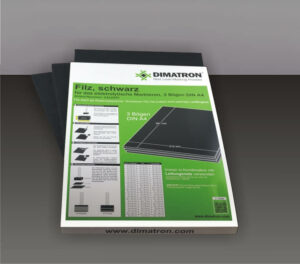 White felt
White felt is extremely heat-resistant, but not as conductive as black felt. Depending on the device type, this may be the right choice for you. The white felt is particularly popular with users of weld seam polishing devices.